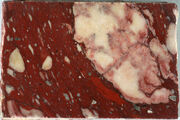 Cipollino Rosso.
Anche chiamato Marmo Iassense o Africanone.
Latin name
Edit
Marmor Carium, Marmor Iassense.
Petrographic Characterization
Edit
Impure marble coloured red by fine, dispersed, hematite particles.
All the quarries are located not far from the modern village of Kıyıkışlacık, the ancient town of Iasos (from wich the marble takes his name), in the inland nort-eastern sector of the hills around the site.
[1] Kıyıkışlacık on Google Maps
hasQuarry:: 37.191801°,27.361389° and hasQuarry:: 37.182146°,27.39650°
Description
Edit
Corsi description
Edit
Pullen description
Edit
Varieties
Edit
- Cipollino Rosso (homogeneous)
- Cipollino Rosso Brecciato
- Cipollino Rosso Venato
Ad blocker interference detected!
Wikia is a free-to-use site that makes money from advertising. We have a modified experience for viewers using ad blockers

Wikia is not accessible if you've made further modifications. Remove the custom ad blocker rule(s) and the page will load as expected.